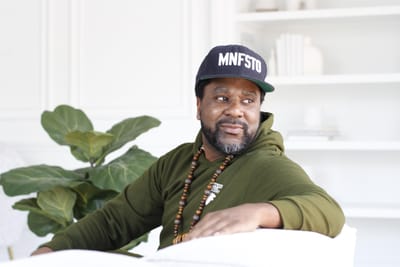 A magnetic and empowering visionary leader, father, digital media creator and author, Neil 'Logik' Donaldson continually showcases the value in watering the seeds of dreams and passion, nurturing them into gifts that foster growth, education, and healing within his community. Possessing over fifteen years in the realm of youth and community empowerment, alongside the facilitation of community dialogue and evolution, Donaldson is the founder of Stolen from Africa and Reason with Logik, two outlets rooted in artistic expression and knowledge of self, promoting tangible change.
Established in 2004, initially piloted as a street apparel campaign, Stolen from Africa has evolved into a nationally incorporated, non-profit arts education organization focusing on cultural and historical awareness of the African Diaspora. The organization has executed Ontario-wide projects inclusive of documentaries, youth-led research projects, curriculum development, community collaboration, and strategic outreach. Because of these initiatives and Donaldson's ongoing commitment to the interception and elimination of oppression, Stolen from Africa has secured funding from multi-level government, Toronto and Ontario Arts Councils, United Way, Trillium Foundation, The City of Toronto, Toronto District School Board, Toronto Catholic District School Board, and private donations.
"Our experiences are not our identity, but merely a part of our journey."
Finding contentment in authentic connections, wisdom, vulnerability, and understanding, Donaldson created Reason with Logik, a digital media and prosperity mindset coaching platform. From a healing-centric, trauma-informed lens, Donaldson strives to support individuals in exploring the healing of their inner-child, identity, the challenging of perspectives, and the alignment of mental, emotional, and spiritual wellbeing surrounding facets inclusive of intimacy, parenting, employment, and self, through dialogue.
"Why do I do this? Because it's my calling. I'm a humanitarian, and I own it. I don't know anything else. If you're into astrology, it's written in the stars. I'm a Virgo sun, Aquarius rising, with my moon in Taurus. Nuff said."